Hello everyone, for those who aren't familiar with me, I'm Matt Czuzak. This article is going to give a brief overview of the most recent legacy deck I have been playing, Bant Turbo Lands. For those of you who aren't familiar with the deck, here is my take on the 75: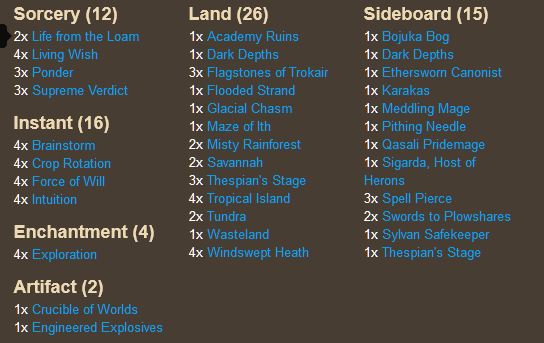 I first saw this archetype of this deck at Grand Prix France, and instantly fell in love with it. At the time, I was playing a Junk version of a Stage / Depths combo deck that relied on Knight of the Reliquary and Living wish to tutor for the combo as opposed Crop rotation and Living Wish. Here is the 75 I played with that list, which I will compare and contrast to my current Bant list.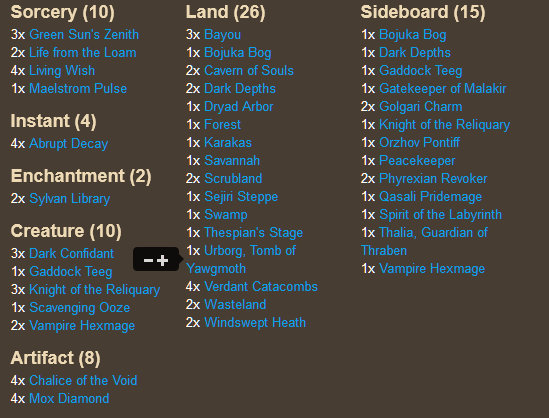 Pros of Junk Depths:
Multiple win cons (creatures or Dark Depths)
More resilient to graveyard hate
Accidentally win games with Chalice of the Void at 1
4 Abrupt Decay and 2 Cavern of Souls provide strong game against heavy counter-magic
Can deal with True-Name Nemesis with relative ease, whether it be by racing it or killing it
4 copies of Mox Diamond can lead to some incredibly explosive turn 1 plays
Pros of Bant Turbo Lands:
Great library manipulation due to Ponder and Brainstorm
Crop rotation is much faster than Knight of the Reliquary
Intuition is essentially Demonic Tutor for 3 cards via Loam packages
In addition to being able to pump out a Marit Lage token on turn 2, you can get an Academy Ruins soft lock, Glacial Chasm lock, or Wasteland lock, with relative ease in this deck

This lets us grind out almost any opponent
If performed correctly, you will never mill out with this deck, due to Engineered Explosives and Academy Ruins (I have actually won through a Jace, the Mind Sculptor ultimate with this online)

Three copies of Supreme Verdict mean, that for the most part, we don't care about creatures
Cons of Junk Depths:
Limited library manipulation
Has to mulligan a lot against combo
Relies too much on Living Wish for consistency
Cons of Bant Turbo Lands:
4 copies of Exploration can lead to awkward draws (thank god for Brainstorm)
The blue card count seems questionable for running Force of Will
Incredibly uphill battle for decks like Goblins and Death and Taxes that run both Wasteland and Rishadan Port
In grindy match ups, if there is graveyard hate, it is going to be hard to win

That being said, it is not too hard to play around
Review of Match ups:
Death and Taxes
This is probably the deck's worst matchup. This is due to the fact that the deck runs 4 copies of Wasteland and Rishadan Port, plus 3 copies of Karakas to bounce Marit Lage. In addition, the 3-4 copies of Flickerwisp these decks tend to run can permanently exile our Marit Lage at instant speed with an active Aether Vial. That being said, they don't stand a chance against our 4 open mana with a Supreme Verdict in hand. Post board our match up gets a tad bit better, although we do have to play around Rest in Peace. Side out all copies of Force of Will, bring in two copies of Swords to Plowshares as well as two copies of Spell Pierce. The plan both games is to try and get an Explosives lock or Chasm lock while slowly Wastelanding their Karakases away, this is not a match up we want to try and race with unless you have the potential for a turn 3 kill with protection.
Verdict: Unfavorable
How I would board:
– 4 Force of Will, +2 Swords to Plowshares, +2 Spell Pierce
Patriot Aggro / USA Delver
Delver decks are basically free wins for the deck. If you know you are playing a Delver deck, always, always, always play around Daze, which you should be doing anyway. The only way USA can interact with us to a meaningful level is before we resolve an Exploration is via Wasteland, Daze, Force of Will, and Spell Pierce. A note on those interactions though, your Wasteland is better than theirs, seeing as you can recur it and run 26 lands, Wasteland locking them is a very real way to win here, seeing as most lists don't run any basics. Another notable thing about this match up, is that their only way to deal with Marit Lage, is Swords to Plowshares, and gaining 20 life in this match up just makes the game go longer, which is more favorable towards us. Post board things get a little tricky as we will probably have to play around Rest in Peace, but other than that, things are the same. As in most fair match ups, out come the forces, in goes the Swords and Spell Pierces, if you're feeling frisky and don't want have Marit Lage get plowed, you can potentially side out a ponder for the 3rd spell pierce. In addition see the RUG Delver section for my thoughts on Wishing for Sigarda in this match up
Verdict: Favorable
How I would board:
– 4 Force of Will – 0/1 Ponder, +1/2 Swords to Plowshares, +2/3 Spell Pierce
Jund
This match up would be incredibly one sided in favor of us, if it were not due to Deathrite Shaman. Other than the pesky little elf, we don't really care about anything the deck does. Discard is pretty irrelevant towards us as we can hide cards with Brainstorm (I have had hands where I Brainstorm into Loam and Land, put my two spells back and force them to hit Loam, which is amazing), and their discard spells don't hit lands (with the exception of Hymn to Tourach). We can generally combo faster than they can kill us, so I will say it again, play around / kill Deathrite to the best of your ability and you will win this match up the majority of the time. Their post board game doesn't really do much against us either with the exception of Pithing Needle, which could potentially slow our game down, but we can grind them out while digging for explosives.
Verdict: Favorable
How I would board:
– 4 Force of Will, +2 Swords to Plowshares, +2 Spell Pierce
Canadian Threshold / RUG Delver
Another Delver deck, once again, Wasteland is a real card here, be sure to use it wisely in this match up seeing as they typically run somewhere between 2 and 4 copies of Stifle. This deck can interact with us via Force of Will, Daze, Stifle, and Spell Pierce. The matchup is relatively easy as long as you play around Daze and Stifle, because if you don't it will be an absolute blowout. They have no way to deal with Marit Lage once our big friend is out so it is okay to take time ensuring the combo will be safe. As far as post board games go, watch out for multiple copies of Red Elemental Blast and/or Pyroblast being brought in. Their graveyard hate typically consists of Relic of Progenitus or Grafdigger's Cage, the latter of which does nothing to us. Occasionally you will see a copy or two of Surgical Extraction, this can be incredibly tough to deal with due to the fact it can hit non basic lands. In the case that Dark Depths or Thespian's Stage gets Surgical-ed, we are in luck! Due to having 4 copies of Living Wish we have our alternate win-con of Sigarda, Host of Herons, or if you're feeling lucky, you can get the piece of the combo that was exiled. Sigarda, Host of Herons, is an absolute monster in this deck, she is nigh unkillable in the Legacy format, she shuts off all edicts, can't be hit by targeted removal or Karakas. Off the top of my head the only relevant cards that can kill her in the format are Terminus, Supreme Verdict, or a bigger flyer (in this case you wouldn't be wishing for her in the first place).
Verdict: Favorable
How I would board:
– 4 Force of Will – 0/1 Ponder, +1/2 Swords to Plowshares, +2/3 Spell Pierce
Merfolk
So here is the plan against our fishy friends, play around Daze, play around Wasteland, combo them, kill them. Easy? Sure is. So when I say play around Wasteland you really can't due to the fact we have no basics. What I mean is force them use it so we can combo uninterrupted. Post board watch out for Submerge and possibly some combination of Relic of Progenitus and Surgical Extraction. In this matchup post board is probably where we are going to want to wish Sylvan Safekeeper so Mrs. Lage will stay safe.
Verdict: Favorable
How I would board:
– 4 Force of WIll – 0/1 Intuition, +1/2 Swords to Plowshares, +2/3 Spell Pierce
Goblins
At first glance this match up seems similar to all of our other fair match ups. This couldn't be further from the truth. Similar to the Death and Taxes match up, 4 ports in addition to 4 Wastelands are incredibly hard to deal with. Once again in this matchup be wary of an Aether Vial at, as Stingscourger is a real card against you. This matchup is pretty abysmal for us, after testing this against Mike Hadley many times and even when comboing as fast as the deck can and pumping out a turn 2 Marit Lage, he was still able to win. Our best bet in this match up is to hope they get unlucky with Ports and Wastelands and resolve a Verdict.
Verdict: Unfavorable
How I would board:
– 4 Force of Will – 0/1 Intuition, +1/2 Swords to Plowshares, +2/3 Spell Pierce
Shardless BUG / BUG Control
I would say our match up here is about 50 / 50. This is for a few reasons, first off, the BUG decks have a lot of dead cards against us: Dismember, Abrupt Decay, Liliana of the Veil, and Jace the Mind Sculptor do very little against us. On the other hand, due to the high amount of lands the deck run compared to a typical Legacy deck, discard can cause some real problems at times. I found this out the hard way losing to a t1 Thoughtseize followed by a t2 Hymn to Tourach multiple times, not that I think many decks can stand a chance against that. Another card you have to really watch out for in this matchup is my least favorite elf, Deathrite Shaman. He can ruin your day by exiling your precious life from the loam, or a Dark Depths, make it incredibly challenging to actually win the game.
Verdict: Toss up
How I would board:
– 4 Force of Will – 0/1 Ponder, +1/2 Swords to Plowshares, +2/3 Spell Pierce
U/W/r Miracles
This matchup is pretty great. They take infintely longer than you to win the game, and we really don't care about Counterbalance and Top due to the fact we don't actually have to cast spells to win the game. That being said the deck has a ton of library manipulation to look for answers, which there are typically only 8 or 9 (3-4 Terminus / 3-4 Swords / 0-2 Karakas / 0-1 Venser) of, so if you see the coast is clear. Pump out the fatty and bash'em for 20. Another great thing about this matchup is that the deck has been slowly drifting away from the Rest in Peace + Helm combo in the main deck, which gives us a better game 1. Game 2 you absolutely have to play around the rest in peace though, otherwise you could get blown out.
Verdict: Favorable
Stoneblade / Deathblade
We don't really see too much Stoneblade anymore due to how popular Deathblade has become, which is unfortunate. I say this because Deathblade means more Deathrite Shaman. The game plan here is to combo off as fast as possible, don't play into a Karakas, but getting Mrs. Lage plowed here is quite okay, due to the fact that their clock consists of 3 and 4 power guys. We can assemble the combo multiple times before their clock becomes relevant. The one thing here, as it always is, is to play around Deathrite Shaman. Post board watch out for a potential Rest in Peace, but other than that, this match up should be smooth sailing.
Nic Fit
Ahh yes, a personal favorite deck of mine. Nic Fit, for those who are unfamiliar with it, is a "fair" deck that abuses creatures with insane leaves-the-battlefield and enter-the-battlefield triggers and uses cards like Recurring Nightmare and Volrath's Stronghold to recur them. This deck loves to prey on the other fair decks in the format such as Delver. Fortunately for us, we get the best of both worlds as a combo / control deck. You have to play this matchup as the combo deck though, as the amount of value generated by the creatures in this deck is just too much to handle and control. They have maybe 1 or 2 (Diabolic Edict) slots in their 75 that is able to kill our flying friend, Marit Lage. So whenever you have the ability to get the combo off, just go for it, as they probably won't have an answer. As always, with any B/G/x deck, keep an eye out for Deathrite Shaman and play accordingly.
Verdict: Favorable
How I would board:
– 4 Force of Will – 0/1 Ponder, +1/2 Swords to Plowshares, +2/3 Spell Pierce
Lands
This match up can be pretty rough, but if played correctly, can be won. Basically we have a better tutoring package and consistency due to Intuition and Living Wish. So we have to combo faster than them. Then we are going to want to grab Sylvan Safekeeper and bash for 20. Sylvan Safekeeper is essential in this match up due the fact that they run 4 Maze of Ith (typically) and at least 1 copy of Karakas. Everything else the deck can do is meaningless to us, as we don't care about Punishing Fire. Also wishing for a Bojuka Bog in some situations could lead to a potential blowout if you hit multiple Loams or combo pieces. Also keep in mind Sigarda will flat out kill them as they have 0 answers to her in their 75.
Verdict: Favorable
How I would board:
-3 Supreme Verdict – 2 Force of Will , +2 Swords to Plowshares, +2 Spell Pierce
Pox
I don't have much to say here, we are a Loam deck and they like to blow up our lands, we have multiple ways to recur them and their clock is typically some form of a 2/x. This matchup is incredibly easy. Keep in mind that Pox also have 0 ways to deal with Sigarda in their 75, so if you can get her out, it is a guaranteed win.
Verdict: Favorable
How I would board:
– 4 Force of Will – 0/1 Ponder, +1/2 Swords to Plowshares, +2/3 Spell Pierce
Omnitell
This matchup is pretty hard pre board, one trick here is if they for some reason don't have an Emrakul, you can get a Glacial Chasm out via Crop Rotation and Release the Ants cannot kill you. Other than that we have to hope to combo faster than them and have Force of Will backup. A key card to wish for here is Ethersworn Canonist. If you think you can get away with it, do not cast the Canonist, it will force them to slow down their combo to play with Dream Halls or dig for an answer for it, you want to Show and Tell it in. This is because once Canonist is in play, it checks if the player cast a non-artifact spell this turn, which was Show and Tell, so their turn is effectively over. Game two things get a little better as we get to side in some more counter-magic and side out our dead cards, but the game plan is the same. Combo quickly and wish for a Canonist.
Verdict: Unfavorable
How I would board:
-3 Supreme Verdict – 1 Academy Ruins, +3 Spell Pierce, +1 Karakas
Sneak and Show
Despite using a lot of the same cards as Omnitell, we are incredibly resilient against creature based strategies. The plan here is to set up a board that they can't win against, via Maze of Ith, Karakas, and potentially Glacial Chasm.  Once this board is setup feel free to take as long as you'd like to dig for the combo in game 1 because they have 0 ways of interacting with you at this point. Game 2 can be a little more tricky due to the fact that long of these decks have been running Blood Moon in their side board as a 2 or 3 of. We have to hope here that we have counter-magic available when it is cast because otherwise we kind of just lose. If it weren't for the Blood Moon in the 75, I would say this matchup is incredibly favorable, but we can't ignore the fact that it is there.
Verdict: Toss up
How I would board:
-1 Engineered Explosives – 1 Academy Ruins -1 Crucible of Worlds, +3 Spell Pierce, +1 Karakas
Elves
This matchup is somewhat interesting, in that we don't really want to try and combo here. We have two different ways to lock the elves player entirely out of the game. The first is an Engineered Explosives with Academy Ruins. The second is Glacial Chasm with an Exploration and a Loam or Crucible. The plan here is to never let a Deathrite Shaman resolve, or kill it as quickly as possible. Once that problem has been taken care of, you want to assemble one of the previously mentioned locks and then dig for the combo to finish them off. The big thing to watch out for post board is the Scavenging Ooze that will typically come out of the sideboard. Play around this and Elves shouldn't be too tough.
Verdict: Favorable
How I would board:
-2 Ponder -2 Intuition -1 Living Wish +2 Swords to Plowhares, +3 Spell Pierce
Storm
Game 1 our best hope is to race them and hope we can resolve a Force of WIll against a crucial Ad Nauseam or Infernal Tutor. Game 2 we side in more counter-magic and hope for the same, leave up the Spell Pierce mana and try to race as fast as possible. The interaction here is limited to their hand disruption and our counter-magic so every spell here is critical. Also, don't forget the option of wishing for a Meddling Mage or Ethersworn Canonist, both of these options can give you a free win against storm if they don't see it coming.
Verdict: Toss Up
How I would board:
-3 Supreme Verdict, +3 Spell Pierce
Dredge
This match up in theory should be pretty good, as we have 4 ways main deck to exile their graveyard via wishing for Bojuka Bog. That being said, I seem to be really unlucky against Dredge players. That is essentially our plan, is wish for Bog. Game 2 I like to move the Bog mainboard in order to Crop Rotation for it to be a turn faster. In this match up don't be afraid to Wasteland your own Bog in order to recur it via Crucible or Loam. We can also delay with Chasm until we find what we need to combo kill.
Verdict: Favorable
How I would board:
-1 Thespian's Stage, +1 Bojuka Bog
Imperial Painter
If there is a such thing as an un-winnable match up, this is probably it. With 7-8 Blood Moon effects game 1, this is going to be pretty hopeless. We have to hope when they slam that Blood Moon that we have the Force of Will and they don't have any backup. Seeing as our deck has no basics, a resolved Blood Moon or Magus of the Moon means game over. There isn't too much to say here except don't get Blood Mooned.
Verdict: Unfavorable
How I would board:
-3 Supreme Verdict, +3 Spell Pierce
Reanimator
Game 1 can be rough but definitely winnable. Obviously you don't want them to reanimate anything so keep an eye out for what to Force. You're going to want to play around Daze here to avoid getting blown out. Depending on the situation you are going to want to wish for a Karakas or a Bojuka Bog. The on nice thing about this matchup is that Marit Lage kills anything they reanimate, just don't try to combo off when they have an active Tidespout Tyrant. Game 2 I like moving both the Karakas and Bog to the main. This match up should be a bit better once we bring in our additional counter-magic.
Verdict: Toss Up
How I would board:
-3 Supreme Verdict – 1 Academy Ruins -1 Engineered Explosives -1 Thespian's Stage -1 Crucible of Worlds, +3 Spell Pierce +2 Swords to Plowshares +1 Karakas +1 Bojuka Bog
Additional Notes
So those are the major match ups I am going to talk about. A note on some sideboard cards I didn't really talk about. A lot of the side board cards are very situational, and you have to use your best judgment as of when to bring them in, and when to wish for them. However I almost always recommend leaving the creatures in the sideboard as the 4 wishes give you more consistency finding them. Another note on Pithing Needle, bring it in whenever you feel like and name things that give you problems, there is no right or wrong time to bring it in. Just remember you can grab it with an Intuition package.
Conclusion
I love the Depths archetype and what it has become with Thespian's Stage. I say anyone who wants the best of both worlds when it comes to combo and control should play this deck. The fact that it can be so versatile gives it an edge up on many decks that have linear strategies. If there are any matchups I didn't talk about that you would like to hear about, please feel free to leave a comment and I will talk about it there.