This past weekend 41 players showed up to battle it out for another prestigious slot in the Arizona Magic Invitational at The Geekery in Flagstaff. Six rounds with a cut to the top eight was the order of the day. A variety of archetypes came to do battle with the best earning their slot in the Top 8.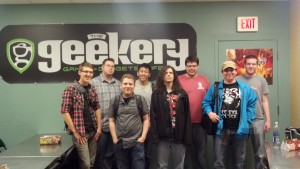 Jeffrey McCoy squared off with Ryan Singer in the finals.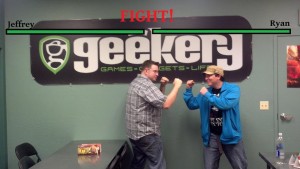 Jeff was piloting a hybrid version of Junk Reanimator and Hoof There It Is. While Ryan was battling with GR aggro. Jeffrey was able to overcome the beatdown of RG Aggro and take home the invite.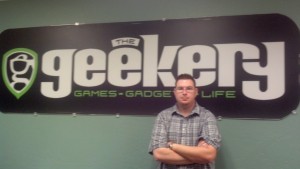 The rest of the Top 8 was rounded out with Turbo Fog, GW Humans, Naya Blitz, RUG Flash and two other Junk decks. The metagame looks to be as diverse as ever.
The decklists can be found below.
With week 3 in the books we now have four players with an invite to the Invitational. There are 20 tournaments left to earn your guaranteed invite. There are currently three players with eight points leading the points race. They are all named Ryan. Singer, Leeper and Beaufeaux lead the pack. If you are named Ryan I would make sure to play in an AMIQ soon before the trend shifts.
With a win last week, Jeffrey McCoy took nine points out of the points race. This brings everyone one slot closer to qualifying.
This weekend you can chase AMI at Samurai Comics. There will be an AMIQ during the afternoon. The start time is fluid due to there being a PTQ the same day. However, the tournament organizer estimates it will start at around 2pm.
Samurai Comics
1120 S. Country Club Drive
480-962-1123 
AMIQ – Standard Format
Win-A-Box
2pm
$10 entry
I hope everyone makes it out to battle for those prestigious AMI slots. Remember, even if you have already qualified you can still play. If you win another AMIQ the invite automatically goes to the highest placed player in the tournament without an invite.
Jeffrey McCoy
Current Point Standings can be found here
1st Place – Jeffrey McCoy
2nd Place – Ryan Singer
3rd/4th Place – Jason Stoeckley
5th-8th Place – Louis Gall
5/8th – Gary Wong
5-8th Place – Nicholas Hyde
5/8th – Andrew Caponera
5/8th – Zach Gray