The 2016 Legacy Series kicked off with a bang! This year, the stakes are higher, more prizes are on the line, and each event offers the winner an automatic bid at year end's Legacy Series Masters while the rest of the Top 8 get a hefty Legacy Series Points boost for the at-large bids. After a four month hiatus, 64 players showed up to battle at Desert Sky Games this past Saturday, our biggest Legacy event ever! And as per the usual Legacy experience, the metagame was very diverse – upwards of 30 different archetypes were in the room! Miracles was the most represented deck at the tournament, with six copies of the deck. We also saw the off-the-wall decks too, such as Aluren, Goblin Stompy, and Junk Nic Fit.
After six rounds, we saw the following Top 8:

From left to right:
Leon Kornacki – Grixis Delver
Daniel Sharpy – Junk Nic Fit
Donald Kastner – Miracles
Jake Welp – 4c Delver
Mike Evans – Punishing Jund
Bryan Rockenbach – Grixis Delver
Matt Vennard – UR Painter
Riad Mourssali – Death and Taxes
After the dust settled, Leon Kornacki took home the trophy and securing the first bid for the 2016 Legacy Series Masters! Congratulations to Leon Kornacki!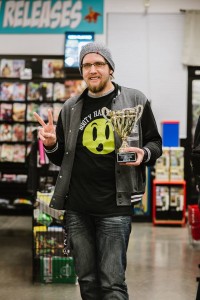 To view the full coverage, please visit this page. Join us on March 19th as we go to Avondale's Play or Draw to battle for the second invite to Legacy Series Masters and Eternal Glory!